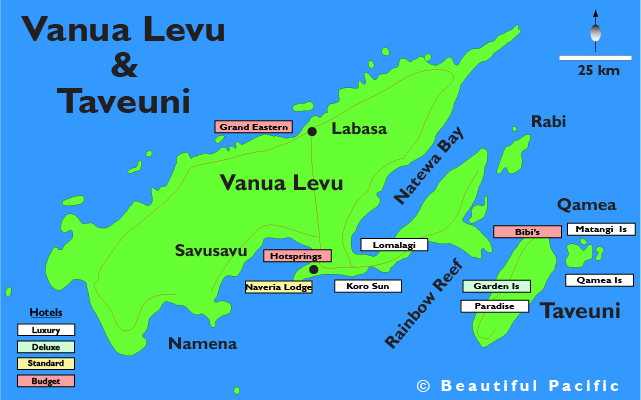 The Hibiscus Highway
The pretty Hibiscus Coast meanders east from Savusavu all the way to Buca Bay and passes through large tracts of coconut plantations. This region was the heart for the early European planters who purchased massive tracts of land here in the late 19th Century. Today, most of the "copra" farms are idle and many purchased by a new breed of explorer - North Americans seeking a retirement retreat.. There are no specific attractions here but there is generally good snorkelling off the coast, especially around the mushroom islets of Maravu Point and there's a decent public sandy beach at Sigasiga. There are several upmarket resorts along this stretch of road mostly aimed at scuba divers with access to both Namena Island reefs and the Rainbow Reef.

Twenty seven kilometres east of Savusavu Town is the turn off to Salt Lake where the Natewa Peninsula is almost severed from Vanua Levu, being connected by a kilometre wide strip of land connecting the lake to Natewa Bay. You can stay and explore the lake at Salt Lake Lodge which sits overlooking the mangrove lined Qaloqalo River. Fishing from the pontoon is excellent and kayaks are available for drifting up and down the river. Being in the mangroves, it's also a pretty good spot for bird watching. The eastern side of the bay is covered in high forest teeming with endemic bird-life - it's one of the few places in Fiji to spot the rare and tiny silk-tail. 4WD is needed to explore the region properly and if you end up at Dakuniba Village at the end of the road on the south coast, ask to see the petroglyphs etched into stone boulders alongside the creek bed.
At the far eastern end of the Hibiscus Highway is Buca Bay, a popular spot for anchoring yachts and has a winding coastline and many inlets and bays making it a pleasant spot for exploring if you hire a car. Buca Bay is the closest spot to the colourful corals of world famous Rainbow Reef, but there is no tourist accommodation here with access instead from the resorts on Taveuni Island, just 30-minutes by small boat across the bay.
Other South Pacific Islands